Created on
January 4, 2023
| Updated on
January 4, 2023
Top 5 Email Marketing Trends in 2023
Content Marketing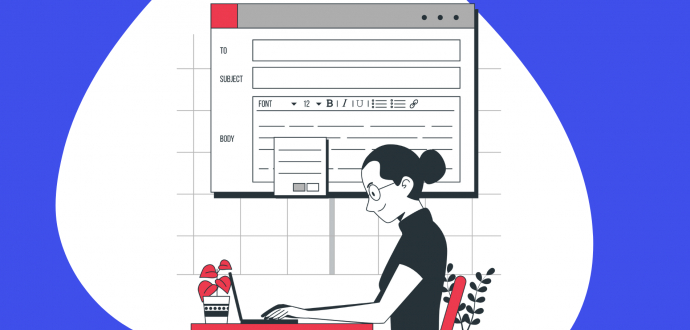 Email marketing continues to be the most popular marketing channel. And it's not just us; that's what statistics say. In fact, 82% of marketers use email marketing globally.
That's very powerful marketing technology. Professionals can use special software to streamline email marketing newsletters, reach the right audience at the right time, and deliver messages promptly. Moreover, email marketing allows you to know your customers better which leads to the overall growth of your business.
But of course, not all newsletters you send are successful. To get the most out of this marketing tool, you need to know the latest email marketing trends.
In this article, we gathered the five most vital email marketing trends for 2023. They will help you to fine-tune your letter creation and delivery to achieve top results.
Share of marketers using selected digital channels for their online marketing strategies worldwide as of February 2020

Contents
1. Interactive emails
The sad truth is that users spend less time reading emails. The time dropped to 10.4 seconds in 2021 compared to 13.8 seconds in 2018. So, how do you ensure people stay longer reading your letters?
Average time people spend reading brand emails from 2011 to 2021 (in seconds)
That's possible if you choose your email scope wisely. In 2023, you will experience the shift from static letters to interactive ones. But what does this really mean?
In the current year, we suggest you fill your emails with videos, gifs, carousels, or sliders. Can you embed some sort of test or quiz into your letter? Great, just do it. Allow your users to customize a product you try to market or play a game.
By providing an unusual and interactive experience you can grab users' attention. This way, people can spend more time reading and interworking with your email. Moreover, you can drive customers to do certain activities with the help of all these interactive things.
To ensure, you get the maximum effect from your letter you need to know your audience well and understand what can potentially interest them. That's why we want to remind you that the segmentation of your audience stays a top priority for you.
Hootsuite offers to take a quiz in one of its late emails

2. Using AI
AI or Artificial Intelligence is not a thing made exclusively for email marketing. We have to admit that AI is just a huge trend for 2023. This technology is one of the most important innovations of the last decade.
And some data is here to prove it. Researchers predict that the AI market will be more than $107.5 billion by 2028. Impressive, isn't it?
But after all, artificial intelligence helps marketers all over the globe make better decisions. As we live in an era, that is overloaded with data, AI is the best assistant for structuring and organizing it. Thanks to this you have a solid ground that allows you to build more depicted and precise campaigns.
For example, 42% of marketers trust AI with content and offer personalization in real-time, while 39% said they trusted AI with email send time optimization. As that's not only just "trust."
There are actually email marketing tools that use AI to make marketers' lives easier. For instance, Sendgrid helps with automation to grow engagement and revenue. Optimove can help to increase email relevance and personalization.
Accordingly, 2023 will spoil marketers with dozens of useful tools. Given the necessity to satisfy users' needs that are more and more demanding, this trend of email marketing could not have come at a better time.
3. Shift to mobile
Mobile traffic accounts for more than half of web traffic (58.99% in Q2 in 2022 according to Statista). Moreover, the number of mobile devices is expected to reach 18.22 billion by 2025. Mad.
But what does this mean for us? Almost any citizen of our planet has a smartphone with internet access. So, the majority read emails on a smartphone.
Ignoring these statistics can cause major problems for you. The open rate drops, spam marks, and bounce rate increases are only some problems you might face.
You need to ensure your email newsletters look perfect on mobile devices. Gladly, email marketing tools (Active Campaign, Mailchimp, etc.) allow you to arrange your templates to rock mobile versions.
This way, arrange all elements of your newsletter to appear flawless on mobile devices. You can hide some pictures or blocks to make the mobile version look appealing and engaging. Mind elements order, sizes, and ability of the template to be responsive.
4. Work with your audience
We are stepping into an era when personal data is treated more securely and consciously. With the demise of third-party cookies on Google in 2024 companies will find new ways of receiving information. Apple's Mail Privacy Protection (MPP) also allows users to personally control their data.
So, in 2023 be mindful of the email list. Ensure that you have permission to use email addresses. If some users decide to unsubscribe from your newsletters, delete their addresses straight away.
Also, as cookies are soon to wave goodbye, email marketing will stay one of the primary communication methods that allow knowing your audience. So, choose your questions smartly and learn more about your customers.
Given all the data you have, don't forget about segmentation. This allows you to engage customers in the best way possible. Remember - there is so much data around people right now. Plus, their attention span is getting shorter. Hereby, your emails better be useful, on-point, and drag users in.
In one of its emails Semrush directly works with the audience asking for a feedback

5. Personalization
80% of companies report that consumers spend more if their experience is personalized. Averagely, that's 34% more time interacting with an email. Besides, the personalization increases open rate by 42%.
2023 will only deepen the personalization tendency. It will be your way of winning people's attention and time.
Once again, users receive lots of data. Like, really a lot. Personalizing your message and giving customers what they want can stand you out. Keep in mind that 62% of customers expect you to adapt based on their behavior and actions. That leads us back to one vital thing. And that is knowing your audience and its needs perfectly well.
So, how can you act more personally? Firstly, you can write the name in the "From" field. This way, clients will get emails not from Company Name but from, e.g. Mike from Company Name. Plus, you can set a real person image, not just a company logo.
On top of that, don't start your newsletters with a faceless "Hi." Instead, personalize this stroke to "Hi, [first name]."
Also, automation tools can help you create email sequences so that your clients can receive specific letters after some sort of actions.
Conclusion
Digitalization brings more data and information. Don't let your users sink in it. Stick to these five trends in email marketing.
2023 will bring forward new challenges and requests. Nevertheless, you still have a chance to win people's hearts via your email marketing campaigns. Know your audience to give it what it needs. Be attentive to your customers' demands. Find new ways to keep them engaged and satisfied.
Don't forget that you can learn more about new trends in the content marketing section.
Tell us, will you upgrade or re-think your email marketing strategy? If yes, will it align with the trends we mentioned in this article? Leave your thoughts in the comments.

More Like This