Created on
September 23, 2020
| Updated on
September 29, 2023
Link Building Outreach: How to Nail It
SEO Articles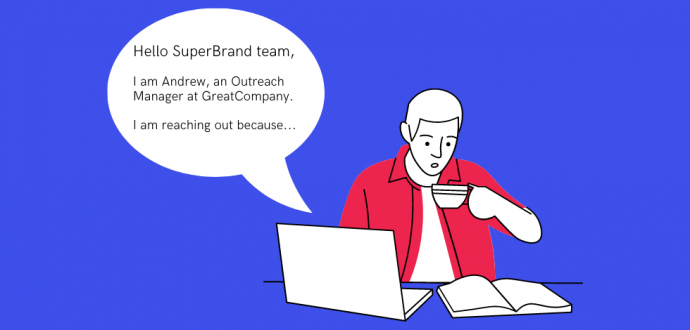 Link building outreach might be the toughest part of link-building activities. Yet you cannot skip or ignore it. And 2022 may add some challenges to it.
There are around 600 million blogs. Besides, more and more businesses go online because of the pandemic. Your aim is not to get lost.
That sends us back to the link building activities. It's not a secret that backlinks are one of the factors influencing a site's ranking. And industry specialists get them with the help of outreach.
Thus, if you had experience in the link building outreach you might already know some things. Firstly, you spend time in the preparative phase. It includes gathering fitting sites/sources to get the backlinks from. It's time-consuming yet not that hard to complete.
And then you need to reach webmasters/site owners. Let's admit it - you don't get a positive answer to every single letter you send.
Yes, it's sad. But the truth is that site owners receive hundreds of outreach emails. Accordingly, not every SEO specialist ends up getting a backlink.
Today, we'd like to discuss four tactics that may result in a better response rate and getting quality backlinks.
Contents
Follow outreach courtesy
So, you have a list of webmasters and it's time to write some letters. We really advise you to keep in mind that webmasters receive a lot of letters. Think of how would you act.
After a dozen of generic letters, you can get irritated.
Is there a way out? Yes. And it is an outreach courtesy. Nevertheless, it won't guarantee a 100% response rate. And it won't ensure all your links will get placed. Let's keep it real. We don't want to lie to you.
But why should I use this technique then? Well, it'll stand you out from hundreds of copy-pasted letters. Respectively, you get more chances that the webmaster will read your outreach from the beginning to the very end. And, hopefully, he/she considers your request.
If you are performing a manual link building outreach think of the correspondence etiquette:
Professionalism - Remember that it's not personal correspondence. Of course, there is no need to overflow a person with complicated terms and sentences. Yet keep it brief and discuss the actual issue.
Politeness - We don't think you are acting rudely in your communication. Think of this point as a reminder not to be too pushy or demanding.
No forcefulness - Once again - being forceful won't help you establish good relationships with a webmaster. Moreover, force is not an argument that can convince someone to place your link.
Length - An outreach letter is not an article. Keep it short and sweet. Think of what points it must include. Write them down and read the letter once again. Delete all the odds. Does it look compelling? Send it then.
Familiarity - People love to get credits. Remember to mention why you enjoy the webmaster's site and what article has grabbed your attention. That will show the webmaster that you are really interested to get the link from his/her site.
Dignity - You will get rejects. You need to learn how to accept them with merit. Just thank the webmaster for his/her time and continue the outreach campaign.
All-in-all, remember you are reaching to a human being. Don't forget to praise one's work, say what you love about the blog, and show what benefits you can offer in return.
Use outreach templates
We love planning. That's why we think documenting your link building outreach progress is essential.
No, we are not control twisted. But documented strategy/plan/whatsoever helps you see your effectiveness. Thus, it ensures you correct your actions if something is not working. If you work on a template that can become a part of your progress monitoring, it'll bear fruit.
Let's refer to the good old Google Sheets to build an outreach template. We advise you to add the following cells.
Cell 1. Website's URL. It's as simple as it seems. Here comes the link to your prospect.
Cell 2. DA. Add domain authority to filter the priority of the sites.
Cell 3. Email. Write down the email you are using to reach out to the webmaster.
Cell 4. Sent. It's the first stage of your progress line for the outreach template.
Cell 5. Results. In case your pitch was rejected it's the last status for the prospect. If the webmaster accepted it, you can move to the next stage.
Cell 6. Approval. It's the status that shows that the guest post's topic was approved. It's when you can start working on your content.
Cell 7. Links. This cell shows the acquired backlinks. That finalizes the outreach process.
Basically, the very last point shows the links won. You may keep track of these links in other tables and check their presence from time to time.
As you can see, Cells 1-3 stay unchanged. You change the progress status from Cell 4 to Cell 7.
The template helps you understand what site owners accept your pitches more willingly. This way, you see what domain authority is a limit for you (at least for now), what emails don't work (if you are writing new ones each time), and so on.
That saves your time extremely and ensures you get rid of ineffective techniques.
Monitor mentions
If you represent a popular brand or are an expert in your niche you might get some mentions or citations. Well, that's great for sure. But can you get more profit from these mentions? Yes! At least, you should try to get some.
That brings us to the next tactic you can use. What you need to do is to monitor the unlinked mentions. How can you do this? Type "check mentions" in the search box and pick the tool that suits you best.
Then start gathering the mentions. Check websites - their DA, DR, traffic, and GEO. That ensures your prospective links are qualitative.
As soon as you compile the list it's time to work on your outreach letter.
When you are writing the outreach don't forget about the courtesy rules we've talked about earlier. Don't be too pushy but mention that a backlink would mean the world to you. Offer a backlink to one's site as well (if possible).
We like this letter sample. It's short and sweet. Thus, it tells about the request straight away but in a very polite manner.
Use guest posting service
Of course, we cannot leave the guest posting service unmentioned. So far, it's one of the best options when it comes to building links.
You can ask "Why are you putting it as a guest posting service?" Well, that's because the guest posting service saves 85% of your time compared to manual guest blogging searches. That, in turn, increases your chances to get more quality backlinks.
To use the guest blogging service you need to register. After this, you can access a variety of blogs/sites ready to place your articles with the dofollow links.
This is a worthy tactic not only for blog posts you publish as a guest writer. In most cases, the links you build are more qualitative and "heavy." That's because you get them from relevant sites and they are covered in the text. Moreover, you can offer the anchor text for your links.
Conclusion
All-in-all, link building outreach is not a walk on the straight road. You will have your ups and downs. Well, it's more like a rollercoaster ride.
Our aim was to make this ride full of fun. That's why we've offered four outreach techniques you can use to win more links. It's up to you what to choose. We only want to remind you that being organized and consistent also impacts your success.
We, as a guest posting service provider, are always glad to see you as a part of our team. We have strict quality rules and cooperate with manually checked sites to ensure the links class.
Tell us about your outreach experience. What techniques do you prefer and how well are they working? Leave your comments and let's discuss.

More Like This