Created on
November 11, 2020
| Updated on
May 12, 2023
5 Reasons to Accept Guest Posts on Your Site
Guest Posting Tips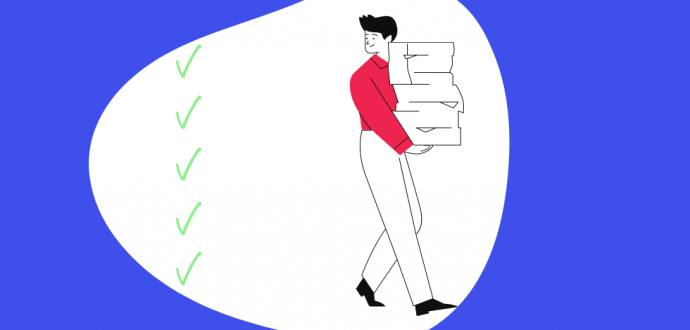 Have you ever wondered what benefits guest post acceptance can offer you? What obstacles may you have to overcome? Or do blogs that accept guest posts have better results than those that don't?
Yes, there are lots of questions to ask. But they shouldn't scare you.
Today we are going to give you five reasons to accept guest posts on your site. You will learn how guest posts can enrich your blog. Also, you will understand if you need to provide the "Write for us" option on your site or not.
Moreover, if you decide to allow guest articles, we will share how to accept the quality ones. So, keep on reading to strengthen your blog!
Contents
Why should you accept guest posts on your site?
Numerous reasons may convince you to take on articles from bloggers or companies. After all, what is guest posting? In one of our previous articles, we've described guest posting as a content creation with the end goal of placing it on the external website/blog.
Accordingly, you will act as one of the external blogs that accept guest posts. Yet you may object by saying you don't need articles from random people. Well, we advise you not to rush. There are some juicy benefits you may miss.
1. Get more content for your blog
Let us remind you that sites with blogs have 434% more indexed pages compared to sites without ones. Though a bigger number of indexed pages doesn't directly boost your site's rank, it may become a premise for more in-depth page crawling. That, in turn, may help Google assume your site as a trustworthy resource. Accordingly, you can rank higher (yet in combination with other elements).
It may sound a little bit complicated, but the main point here is that your company should have a blog.
On the other hand, it's clear that blogging is not the easiest thing to do. Creating quality content and keeping up with the schedule might be challenging. Sometimes, your company doesn't have enough resources or time.
And it's totally fine as you may have other priorities. Of course, you can still run a blog after you:
Outsource content creation,
Hire freelance writers,
Hire an in-house team of writers,
Cut time for other activities in favor of blogging.
But let's be honest. Those are not the best options. First and foremost, some of them are pricey. Secondly, others may harm your primary strategy.
So, how do you get (more) content for your blog? Guest posting is the answer.
You can take on posts manually. This way, you add the "Write for us" option on your site. Or you can register on the guest posts service. That will give you broader opportunities. For instance, you can point out what content and from what niche you want to receive.
2. Attract a new audience
Accepting guest posts is good for SEO. But it's not the only benefit it provides. One of the fantastic pros is extending your presence.
And you can fulfill this goal by simply allowing authors to post their articles on your site!
Of course, many depend on the brand's or writer's authority. Try to partner with renowned specialists from your industry. They are more likely to have a loyal audience. Respectively, this audience will check the author's posts on various sources. Moreover, readers may share those posts on their social media.
This way, you'll get new audiences from the guest author plus from his/her readers.
Of course, there is a reasonable notice you may make. New prospects can leave your site right after reading the guest article. That's why we recommend accepting inquiries from the same niche/industry. That will increase your chances of "hooking" a new audience.
3. Put a new perspective on your industry/niche
65% of marketers struggle to create engaging content. That's why the content may lose its quality. And this may turn your readers away.
Allow guest blog posting to get rid of this problem! New authors will give the second wind to your blog.
Once again, accept posts covering themes from your industry or, in some cases, from the accompanying one. That's vital if you want to attract a relevant audience.
Yet new authors from the same industry will "shake up" your blog. They will offer new themes, insights, case studies, or different points of view on some themes you've already covered. That can be a nice recharge for your blog.
The only thing you have to do is ensure the quality and relevancy of the posts. After all, your current readers should find this material informative and engaging.
4. Receive extra income
What you may find no less exciting, is that you will get not only quality guest posts. By publishing external articles, you can earn extra income. Yes, you've heard it right.
Use the help of guest posting services to monetize your blog. You can do this hassle-free. Register with a guest posting service, confirm the site ownership, claim your price, state the industry, and start accepting guest posts.
The final income will depend entirely on you. Yet remember to state the price commeasurable to your site's DA/DR and traffic. That ensures you receive worthy requests and have a constant flow of articles.
5. Free your time for other marketing activities
When you become one of the guest posting sites, you spare time for other activities. If you fine-tune all the guest posting activities correctly, you can prepare fewer or no articles at all.
As a result, you free more time for other marketing duties. Have you put SMM on the back burner? Well, now you have time to do research, compile a strategy, and create a plan. Would you like to publish more guest posts on your own? Now you have time to find a perfect site accepting guest articles.
Also, the articles you post may become a solid base for content repurposing. In such a way, you can create more marketing data based on guest posts. It might be the posts for social media, presentations, podcasts, etc.
How to accept quality guest posts
To speed up your way to becoming a guest posting blog, we recommend registering as a Publisher at Adsy. It won't take too long. There are several steps you need to take.
Add your website.
Type or paste its URL.
Choose the industry.
Pick the language(s).
State the price.
You'll have to mention some additional features, but the whole submission process won't take longer than 15 minutes. Then wait until the account manager confirms your request, and you are ready to get started.
Monitor the "Open Offers" or "Tasks" tab to accept and manage guest articles from fellow bloggers or brands. And, of course, get money for publishing content on your site. Remember, only you fully control what posts to accept and what quality requirements to request.
Another option you may use is adding the "Write for us" option into your site's footer. As you compel it, don't forget to provide guest posting guidelines. That will ensure the guest posts' quality and decrease the editing work for your team.
Nevertheless, if you choose this path, prepare to receive some amount of irrelevant information. Unfortunately, you cannot fully protect yourself from irresponsible submitters.
Conclusion
Let's sum everything up. Often, marketers esteem guest posting from one side only. But, in fact, guest posts can offer a variety of benefits for those who publish the posts and those who submit them.
We've gathered the five strongest perks guest blog posts can offer you. We believe the state where you can earn an extra income and fine-tune content production is promising.
Moreover, thanks to guest posting services like Adsy, you can manage incoming submissions without a fuss. In the outcome, you grow your blog with quality content, engage industry leaders, present topics relevant to your audience, and acquire new readers.
Share your thoughts about guest posting. Does your site provide a "Write for us" option? Do you partner with the guest posting service? Have you experienced a positive influence on guest articles' acceptance?
More Like This