Created on
June 2, 2021
| Updated on
August 19, 2021
Blog Monetization: How to Earn via Guest Posting Service
Blogging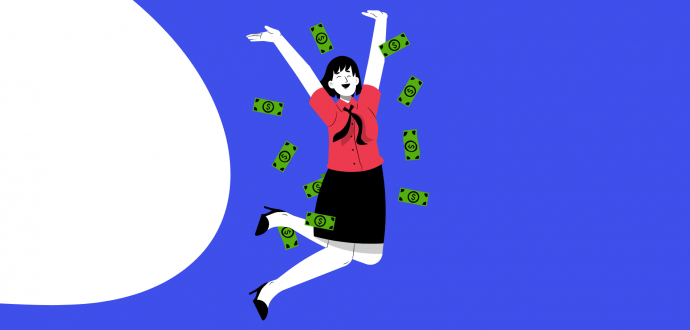 You may have heard of guest posting service perks. But usually, they are connected with building quality links.
But what if your goal is blog monetization? What's then?
Well, the good news is that you can utilize it as a monetization tool. You put lots of effort into your blog, so this should pay off.
There are around 1,2 billion sites and 600 million blogs. And we bet not all of them bring income.
But let's keep up with the best ones! In this article, we'll tell you how to monetize your blog by accepting guest posts.
Contents
What is a guest post?
Before going any further, let's get a sense of what is a guest post?
A guest post is an article or a post on a third-party website.
In our case, you act as a third-party site. This way, you provide a platform to fellow bloggers and allow them to place their content on your blog.
There are some options to proceed with. For instance, you can leave a guest post unmarked. Accordingly, it will look like your own content.
On the other hand, you can mark guest posts you publish as sponsored ones. It's totally up to you.
In either case, guest posts are beneficial for your blog. They:
allow you to monetize your site,
fuel your blog with new relevant content,
save you time for content creation on your own,
provide another point of view on the topic(s) you cover.
As we've mentioned earlier in this section, guest posts may differ based on length. This way, you may accept posts that are:
500-word long,
500-1,000-word long,
1,000-1,500-word long,
1,500+ words long.
Regardless of what length you accept, you always have to pay attention to the article's quality and relevancy to your blog.
How to monetize your blog manually
Now, as we know a little bit more about guest posts, let's see how to accept them.
You can do everything on your own. Thus, you need to create a special page with a guide on how to submit a guest post.
Aim at creating in-depth guest post guidelines. This way, you ensure you get top-class content for your blog. Thanks to this, you can also grow your rankings on Google.
As you create the guidelines, don't forget to include your email address and how those who submit articles should refer to you.
You can state the price of the guest post right on this page or write it privately in personal correspondence. Anyway, get ready to answer a bunch of letters.
You will get pitches from various bloggers offering their ideas and topics to post on your site. Check if they fit you and see if the text aligns with your quality requirements.
After this, come to the conclusion of placement and payment.
That's how the manual process works. It's effective yet quite time-consuming. But no worries!
In the next abstract, we can tell you how to speed up the process.
How to monetize your blog via guest posting service
So, what is a guest blog posting service after all? What functions does it have?
A guest posting service is a special platform that connects those who want to place a guest post and those ready to publish it on their side.
Simply put, a guest posting service allows you to:
buy guest posts and build backlinks,
monetize your site or blog by accepting guest posts.
Thanks to this service, marketers can guaranteedly ensure guest posting on blogs. And if you own guest posting sites, you can quickly monetize them!
For instance, with Adsy, you can meet those who are searching for publishing opportunities fastly. To get started, you need to go through some easy steps.
1. Register with Adsy as a publisher.
2. After you do this, you can add a site or any number of sites. Thanks to the "List of websites" option, you grow your chances to get more clients and earn more.
3. Add the site(s) and wait until they pass moderation. (If your site gets into the Pending specification status, add more information about it. Without this, your site won't move any further).
4. As soon as your site is in the Approved status and is Active, buyers will see it in the inventory. That means you can start getting tasks and earning money.
Thanks to this system, you show your site(s) to thousands of marketers and SEO specialists ready to place content.
Also, we've made some updates lately.
The first one is connected with the quantity of sites you can add. We are changing the game, letting you add whatever number of sites you wish. We'll look through and approve (if everything is fine) the first hundred websites.
After we see you complete all tasks, we will approve more sites for you. And, of course, you'll get paid for your services. What's important is that you are the one who sets the price!
Another update is that you don't have to be a site owner to add it to Adsy. Do you have good relationships with a number of sites and can place content there? That's great! Add them, proceed in the contributor role, and get paid for publishing content.
In virtue of guest posting service, you can automate the process, get more targeted content, or even create content on your own (but according to buyer's guidelines).
Conclusion
Guest blog posting is one of the most beneficial ways to monetize your blog.
In fact, you not only get paid to your site. You also grow it by adding relevant content. That means more indexed pages and more chances to rank higher on search engines.
As you can see, you have two options to proceed with. Of course, we recommend using a guest posting service to speed up the process and get income guaranteedly.
So, check what Adsy can offer you!
Do you accept guest posts on your site for blog monetization? Or you use another monetization tactic? Tell your thoughts in the comment section.

More Like This