Created on
November 20, 2017
| Updated on
May 12, 2023
Black Friday 2022
Adsy Tutorials & News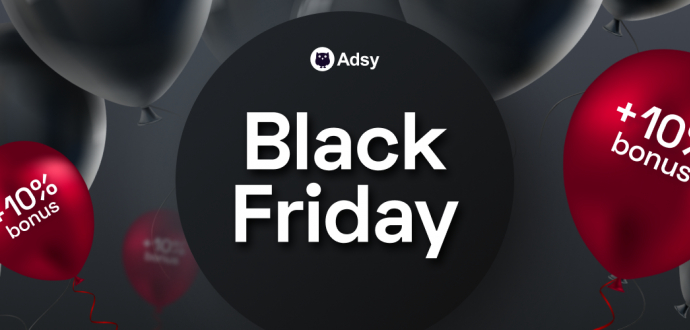 Will there be a Black Friday this year? No, worries, of course, it will!
November is coming to its end, and Adsy has some Black Friday deals to treat you with, in 2022.
Black Friday is a smashing opportunity to order quality content services and earn money for further business promotion.
In 2022, Buyers have five days to enjoy a special Black Friday offer. Let's see what's inside!
Get a 10% bonus* when you make a top-up between 00:01 am 11/22/2022 till 11:59 pm 11/30/2022.
2 super-easy steps to get the bonus:
Sign in to your Buyer account and make a top-up on any sum.
Allow one business day to receive a special bonus to your account.
*The number of transactions is unlimited. You will get a bonus each time you make a balance top-up. Please notice that we provide a 10% bonus, yet if your top-up sum is $100+ you will get a $10 fixed bonus.

That's it! Use your budget to order top-tier content and increase your site's rankings and brand awareness growth.
Share this post with your friends by using the social media buttons on your left - spread the news about Black Friday at Adsy.
Wait, do you know what is Black Friday? Well, it's a day celebrated on Friday right after Thanksgiving day. Nowadays, it's time when a variety of businesses offer deep discounts on products or provide special offers.
If you question yourself about when is Black Friday in 2022, we've got the answer. This year it drops on the 25th of November. Is Black Friday canceled because of the pandemic? No. Gladly, modern people and brands are pretty confident using technologies. That's why the main sales and events will go online.
More Like This