Created on
February 18, 2019
| Updated on
March 11, 2021
How to Make Your Website Promotion Time & Cost Efficient
Adsy News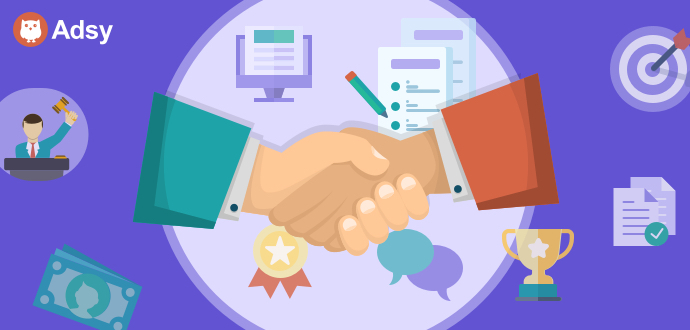 A few months ago Adsy launched a new feature that facilitates the order of content services for buyers — open offers. It has already proven to be a great time saver for everyone who promotes their sites by getting backlinks from guest blogging on a regular basis.

Not sure whether you should try open offers? Read the interview with Mark, a US located retailer, who expands on his successful usage of this feature, tells which works better for small business owners — direct tasks or open offers, and gives some tips that help him reveal the full potential of open offers, save time, money, and effort getting guest posts.
At the end of the article, we're also answering some popular questions about open offers to allow you to make progress with your business promotion and backlinks acquisition.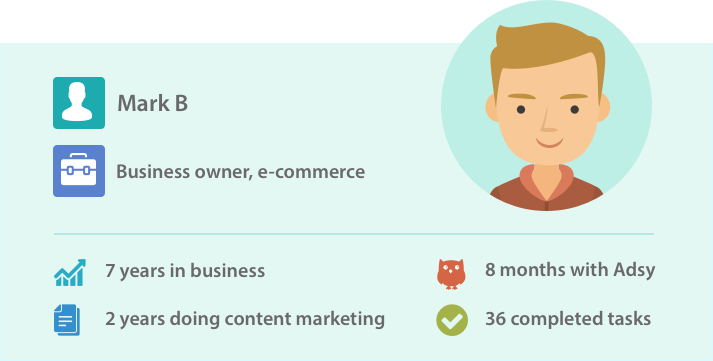 — Why and when did you come to content marketing?
Nearly three years ago my business came to the point when new users just wouldn't come. I had around a hundred loyal customers using my site to buy tools and equipment for construction. But there was no further growth of new users or conversions.
Having tried link building for a while, I realized the need for a clearer and cleaner way to get backlinks and promote my site. Backlinks packages I was getting quickly ceased to improve my rankings and increase traffic even though they worked at first.
I could have started buying more links to progress but was constantly afraid of being hit by Google. Content marketing and quality guest blogging were the only option for me, a careful and thrifty solopreneur.
— How are you doing your content marketing now?
I do manual outreach occasionally but try to minimize such activities as they eat up a huge amount of my time.
So it's mostly working with open offers at Adsy, and sometimes I manually search for publishers, also at Adsy. Open offers are more convenient now, as I get more time for content writing, SEO, site maintenance, and other tasks I don't want to delegate to some strangers.
— When dealing with Adsy publishers, do you create content yourself?

Mostly, yes. I write about things I know, so it's not difficult, and it's a good chance to show my expertise. I want people to know that I'm not selling some rubbish, that I have tested almost each of the products on the site. Then I look for publishers whose audience would benefit from this information and find it useful.
However, when the topic is out of my reach, I order content creation as well. Content marketing is about value, and I stick to it. I don't want to pretend I'm a pro while there are people who can tell something better than I can, while still driving users to my site.
— Adsy has two main options for buyers - direct tasks and open offers. Have you tried both of them?
Yes, sure. I used to do more of the manual search, and it worked fine when I was starting and needed only a few posts a month.
When the need for regular guest posts and quality backlinks surrounded by relevant content grew, it became harder and harder to spend hours finding publishers, sending tasks to them, waiting for reply and acceptance. With the launch of open offers, it's all much simpler and faster now.
I have three active open offers, each of them to promote different pages of my site — one to the main page and two others to the most converting pages. So I keep getting suggestions from publishers, then I check if their sites fit me, and only deal with the best ones.
As a result, I receive regular content and backlinks which means regular growth of brand awareness and have more time for other things.
— So, it's just a matter of time efficiency?
No, not really. I also feel more comfortable setting my own prices for the services with open offers. I know how much I'm ready to pay and this way can allocate my budget effectively.
Besides, with open offers you can expand on your needs for the content, include details if you need something very specific that not all the publishers are willing to do.
For example, once I needed to order an unusual format of an article. I needed company news, which required more work from a publisher in terms of diving into the topic and being ready for some adjustments and remarks from my part.
Contacting each publisher and asking if they are willing to do this made no sense. So I just wrote an additional requirement to an open offer. Sure, there were still publishers who signed up for the job without reading this note :-) But it was any way easier than endless messaging and questions, questions, questions.
My time is worth a lot, and open offers free some of it at the price of a simple content task.
— What about the results you're getting from guest posting through Adsy?

Too early to say about some dramatic change. I knew this when I decided to go for content marketing instead of straightforward link building.
But my backlink profile is growing improving the rankings, and around 4% of users coming from Google converts into clients. Now my site ranks #3-4 for 26 important keywords, which I knowingly optimize for. In the next 6-8 months, I plan to get more backlinks from blog posts and take my site to the top for more long-tail keywords.
— Your advice on open offer usage?
I recommend detailing and specify your requirements to the publishers, so you get only relevant bids corresponding to your needs. That's a very convenient feature introduced by Adsy — you identify the critical points in your publishers, set them, and none of the others who don't fit them can't bid if their sites don't correspond to your requirements. This saves a lot of time.
If you're like me — looking for some steadily growing number of backlinks through a safe way — open offers will come in handy.
Secrets of the best use of open offers
We hope that everyone who has not yet placed any open offers will give it a try to see how much time it frees up for more urgent and vital business activities. Here are a few tips that'll help you make the most of this feature.
Just to remind you, open offers allow you to get a flow of sponsored content about your business by getting bids and ordering services from various publishers simultaneously. You can read more about this feature here.
Who will benefit from the open offers?
Basically, everyone, but there are some categories of Adsy users that turn to open offers most often:
Business owners busy with other tasks and duties
SEO specialists dealing with several sites for promotion
Сontent marketers who chose to promote sites through guest blogging and content surrounded backlinks
How do open offers differ from the traditional tasks at Adsy?
When sending direct tasks you use the filters in the inventory to search for those who would suit your needs. It's a convenient way to find just the right publishers for your content and check out their sites before sending a task. It works best for some occasional content tasks, and helps you involve the most relevant platforms in your business promotion.
Open offers are ideal for buyers who need to arrange a flow of sponsored content and acquire backlinks on a regular basis. This is a fast way to put your quality link building on track and get more time to spend on critical business development things.
How do you get the most relevant bids?

When creating an open offer, make it available to specified publishers by going to advanced settings. There, provide your requirements for the platforms. Only publishers with corresponding sites will be able to bid on this offer, and you'll receive the most appropriate suggestions.
I created an open offer, but I'm not getting any bids. What's wrong?
You may have chosen very few categories or provided very strict requirements to publishers' platforms. Try selecting some related categories or creating an offer available to all publishers. Or, just wait a bit. Even though only publishers with relevant sites can bid for your offers, they all can review them. This way they may add corresponding platforms if they have any. So you can still get site suggestions later.
We do hope open offers will ease a lot of link building and content pains for you, leaving you to enjoy the free time and positive results. Create your open offer right away and change your work with content for better.
Do you have more questions on the open offers? Let us know in the comments below, we'll gladly answer!

Have you already tried the feature? Tell us about your experience, we'd really appreciate your feedback!

More Like This