Created on
November 28, 2018
| Updated on
March 11, 2021
Open Offer Service Launch
Adsy News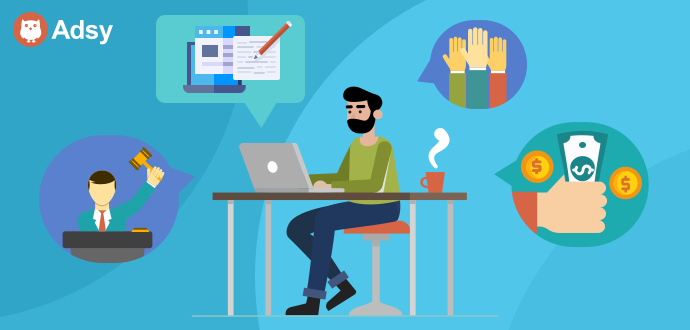 Adsy team is happy to announce the launch of a new service! We hope that open offers will be beneficial for all users of the Adsy platform.
We created the open offers to assist buyers in arranging a constant flow of sponsored posts for their businesses' promotion and give publishers more opportunities to get attractive orders by setting relevant prices using a bidding scheme.
Buyers
If you regularly promote your business with the help of safe and efficient sponsored posts (a bit more about sponsored content, its benefits, and main features is in our blog post on all paid media), then you may already be tired of seeking publishers with appropriate platforms. With open offers, you can effectively simplify this process, and grow the number of publishers writing for you.
How it works
You create an open offer, specifying all the parameters you want to see in a publisher. Those publishers who meet your requirements then suggest the price for the offer by bidding for it, and you can choose the best value for your money.
Your offer stays active for as long as you want, allowing you to maintain the optimal number of sponsored posts, and ensure the diversity of their sources by choosing various publishers every time.
The working process stays the same, however, and you have the final say when it comes to accepting the task or sending it for improvement.
You can find detailed information on how to place an open offer in the Tutorial, and there's also a brief description in your new and improved client panel when you create an open offer from scratch.
Want to simplify your search for quality publishers and continuously get sponsored content from varied sources?
Publishers
We know you want to be proactive in finding buyers and new projects to work on. Open offers are your chance to pick fascinating and remarkable tasks while keeping the control over the price setting process.
How it works
Buyers create an offer for the job they want to be done. If your site is qualified for this job (i.e., it falls into the category a buyer has chosen, has relevant quality parameters of DA and domain level, etc.), you get a notification and can bid for this offer. After that, the buyer will review the bids and will choose you if your site and price correspond their needs.
When you are selected for the job, your steps are the same as with the tasks you're used to performing, and you can follow the work flow in your Tasks section.
If you need more information on searching for the offers or bidding for them, check out the Tutorial we've updated on the occasion.
Ready to bid for an open offer?
We genuinely hope this update to Adsy will come in handy for you. Tell us how you find it in the comments below or by writing to support@adsy.com.
More Like This